Featured Brands
(click brand to view)
ENVE - SES AR HANDLEBAR
Road riding has evolved over the last decade. Thanks to disc brakes, wide rims, and high-volume tires, road riders are able to venture from the main road to the backroad in complete confidence. While brake and wheel technology has driven frame and tire manufacturers to rethink road frame design, we took a close look at the handlebar, your primary contact point on the bike, to reimagine the ultimate handlebar for any road, and any event.
In the case of the SES AR Handlebar, the cross-section of the bar top has been developed in CFD and proven in the wind tunnel to reduce drag. Hidden cable/wire routing enhance drag reduction while delivering a clean aesthetic.
AR means the handlebar will deliver comfort and confidence over any road surface. Borrowing design cues from our successful SES Aero Road bar, Compact Road bar, and G Series bar, the SES AR Handlebar features compound flared drops that provide a wider stance for technical riding and descending while maintaining easy access to the controls.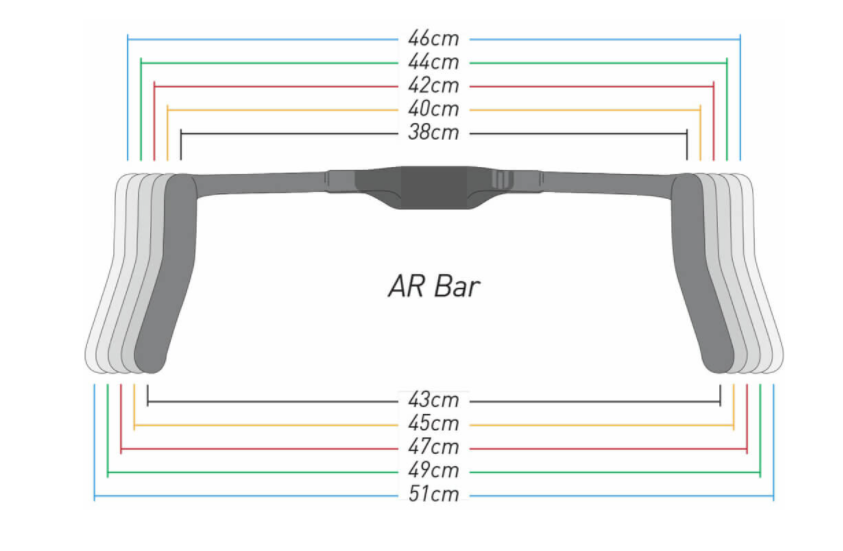 INTERNAL/EXTERNAL ROUTING
The SES AR handlebar allows the user to route wires/hoses internally when paired with compatible stem/headset combo or externally with any traditional stem and headset equipped bike.The handlebar is compatible with the following integrated stem systems: Trek (Bontrager), Focus, Wilier, BMC, Specialized, Pinarello, Cannondale, Cervelo, Felt, Scott (Syncros), Colnago, Parlee, Giant, Ridley, Bianchi, BH, Quintana Roo, Fezzari, Donnelly, Titici, Aquila, White, Swift, DeRosa, Bertin, Olympia, Ventum, Except, Piton, Ciocc, FSA, Deda, Look
SPECS
Purpose-built for the modern road rider, the SES AR handlebar features compound flared drops for confident handling, aerodynamic shaping with internal/external routing options for clean airflow and aesthetics, and a carbon laminate that has been tuned for responsive handling without sacrificing comfort.
MATERIAL: Carbon Fiber
DROP: 127mm
DROP FLARE: 23.5mm
REACH: 76mm
WEIGHT: 216g (40cm)/229g (44cm)
CLAMP DIAMETER: 31.8mm
Tags: ENVE - SES AR HANDLEBAR