Featured Brands
(click brand to view)
Garmin Venu
Brand: Garmin
Product Code: em403
DESIGNED FOR LIFE AND STYLE
No matter where the day takes you, the beautiful AMOLED display brings your watch to life, even under bright sunlight. If you'd rather not waste time activating the display, try always-on mode.
MADE TO KEEP UP
From durable Corning® Gorilla® Glass 3 to the stainless steel bezel, this smartwatch was made to keep up with your lifestyle.
Capture a full picture of your health.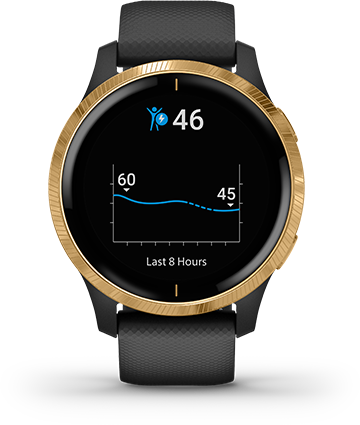 BODY BATTERY™ ENERGY MONITORING
See your body's energy levels throughout the day so you can find the best times for activity and rest.
PULSE OX SENSOR
The Pulse Ox sensor1 gauges your blood oxygen saturation during the day and as you sleep to show how well your body is absorbing oxygen.
STRESS TRACKING
Find out if you're having a calm, balanced or stressful day. Relax reminders will even prompt you to do a short breathing activity when you're feeling stressed.
WOMEN'S HEALTH TRACKING
HYDRATION TRACKING
Log your daily fluid intake as a reminder to stay hydrated. You can even have an auto goal for hydration that adjusts based on how much sweat you lose during activities.
RESPIRATION TRACKING
See how you're breathing throughout the day, during sleep and during breathwork and yoga activities.
ADVANCED SLEEP MONITORING
Get a full picture of how you're sleeping, with a breakdown of your light, deep and REM sleep stages as well as Pulse Ox1 and respiration data.
WRIST-BASED HEART RATE
The watch constantly samples your heart rate2 and will alert you if it stays too high or too low while you're at rest. It also helps gauge how hard you work during activities even underwater.
MINDFUL BREATHING
When you want to relax or focus, you can start a breathwork activity, and this watch will track your stress and respiration to help you get a better understanding of how you're breathing.
Make moves to meet your goals.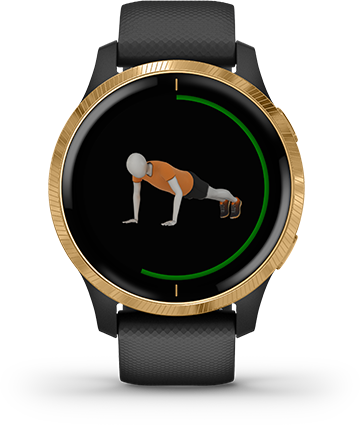 ANIMATED, ON-SCREEN WORKOUTS
Easy-to-follow, animated cardio, strength, yoga and Pilates workouts come preloaded on the watch, and you can download more from the Garmin Connect app.
BUILT-IN SPORTS APPS
Track all the ways you move with more than 20 preloaded GPS and indoor sports apps — including walking, running, cycling, pool swimming, golf and more.
GARMIN COACH
CREATE WORKOUTS
Build your own workouts in Garmin Connect, and download them to the watch.
FITNESS TRACKING
While you get out and about, Venu tracks steps, floors climbed, intensity minutes, calories burned and more. You can even sync this data across multiple Garmin smartwatches.
Connect to your world.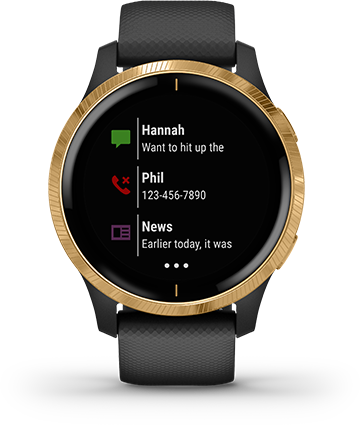 Tags: Garmin Venu